Q: So Jodee, where exactly did you travel?
A: Southern Africa! So, South Africa, Namibia, Botswana, Zambia and Zimbabwe.
Q: How did you get there?
A: Well from Perth, South African Airways offer a direct overnight flight to Johannesburg. Then once in Johannesburg after a few hours in transit, we then flew onto Port Elizabeth. In South Africa we picked up a hire car on arrival and spent the next week driving the Garden Route, ending in Cape Town, taking in all the highlights along the way including Storms River and the Tsitsikamma National Park, wine areas in and around Franschoek and Stellenbosch, plus more.
After a few days in Cape Town including a perfect day for an amazing view from Table Mountain, we flew up to Windhoek, Namibia.
This is where the real adventure began.
We hired 4WD's and proceeded to explore Namibia, taking in the Skeleton coast, Etosha National Park, Caprivi Strip, Okavango Delta, down into Botswana and Chobe National Park. Dropping off the vehicles in Kasane we then headed over the border to Livingstone, the Victoria Falls town in Zambia, before ending the trip at Victoria Falls, Zimbabwe.
Q: Well that all sounds so amazing, what made you want to go to these places? Why did you choose them?
A: I had never been to these areas of Africa before and they are renowned for self-drive itineraries with amazing sights!
Q: What are some favourite experiences from this trip?
A: White Water Rafting down the Zambezi River – totally exhilarating!
Franschoek Wine Tram – a fabulous way to explore the local Franschoek wineries without driving.
The animals – so many animals, elephant, giraffe, zebra, lion, rhinoceros, hippopotamus, warthog, buffalo, ostrich, mongoose, jackal, hyena, meerkat, oryx, springbok, impala, and more!
Victoria Falls – on the Zambezi River at the border between Zambia and Zimbabwe, it is the world's largest sheet of falling water!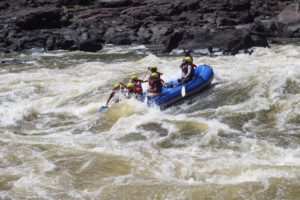 Q: What did you learn in your travels? Was there anything that surprised you?
A: South Africa was much cheaper to eat and drink than I had imagined with a high quality of local produce. Namibian roads are excellent condition and the whole country is very clean.
Q: What tips would you give to anyone heading on the same holiday?
A: Go with friends and share the experience! I went in January when there are less tourists in Namibia and Botswana, so the National Parks are not so busy, and although there is some rain, it is more enjoyable with less people around.
Q: What's the next place on your wish-list?
A: Heading to Estonia, Latvia and Lithuania, for another self-drive holiday!
Want to explore the natural beauty of Southern Africa like our lovely Jodee? Email lifestyle@globetrotter.com.au for a customized experience.