QT Perth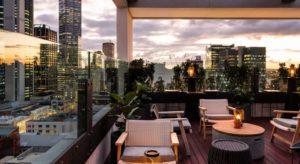 Robe Fuzzies Rating: 9 / 10
Once you walk into your room your eyes will feel blessed. QT is here for style, and the interiors are proof of that. Indulge in a Deluxe King and you will feel instantly regal. The bath is phenomenal and the black robes are oh-so cosy.
Just because you're having a night to yourself doesn't mean you need to confine yourself to the walls of your room. QT boasts the highest rooftop bar in Perth so grab your fav book, order a Gin-Gin Mule Spritz and enjoy the view.
Crown Towers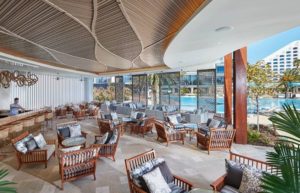 Robe Fuzzies Rating:  9 / 10
If you've ever wondered what one of Gatsby's famous parties looked like if it was set in Western Australia, then ladies, take a visit to Crown Towers. From the slick lobby and glamorous Waiting Room to the decadent pool alfresco and light luxurious rooms, Crown Towers offers it all…plus more.
For this stay, we suggest you make a day of it and relax by the lagoon pools, explore the various spa services and enjoy an unparalleled array of Western and Asian cuisine at Epicurean. Room for one and enough plates for four.
The Westin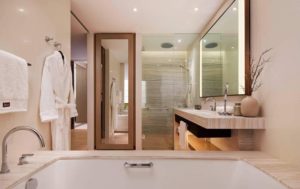 Robe Fuzzies Rating 8  / 10
For the ladies who have a keen eye for fine art and architectural excellence, the Westin will make your eyes tear up with happiness.
Soaring ceilings, over sized rooms and natural tones and textures, this hotel makes you feel like you've stepped into an interior design coffee table book.
Check-in early and take a dip in their rooftop pool oasis. The natural light that beams inside this hotel will make you feel like you're on a wellness retreat rather than a staycation.
*Please take note ladies – our blogs are not sponsored and consist of honest and personal recommendations cultivated from our team.