TONIGHT is the night… the night of the 2016 Rio Olympic Games opening ceremony! All eyes will be on the Cidade Maravilhosa (Marvellous City) from tonight as the world's top elite athletes compete amongst Rio's picturesque landscapes.
The anticipation of the Olympic Games has well and truly taken over the Globetrotter office. We cannot get enough of all things Rio.
Not only is Rio de Janeiro synonymous with sport, it's actually the most visited city in the Southern hemisphere. With its year-round sunshine, rich culture, history, lush landscapes, vibrant nightlife and countless attractions, it's not hard to understand why!
Over the next few weeks, we will be sharing our top Rio inspirations, from where to stay to what to do and where to eat and drink. To start, our journey here is a snap shot of why we are lusting over Rio…
Rio de Janeiro: The City
Rio epitomizes Brazil. It is the second largest city in Brazil, spanning an incredible 1,260kms, and was declared an UNESCO world heritage site in 2012.
14 million people who call Rio home have created a diverse culture, which is reflected through the local art, music and food.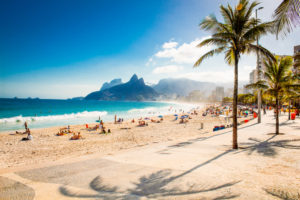 Enticing Beaches
Copacabana and Ipanema Beaches have to be one of the world's most famous beaches… and for a whole lot more than the tanned and toned beach beauties who saunter along them!
Running an outstanding 4.8kms, Copacabana Beach is the most picturesque beach in Rio and plays host to millions of beaches every year. You don't even have to go far from the beach to reach hotels, restaurants, bars and night clubs.  Ipanema Beach is Rio's most chic beach. You want to go here to see and be seen. It makes the ideal place to work on your tan and watch everyone going by, with kiosks selling all the food and drink you could need.
Lush Landscapes
Framed by the sea and mountainous forests, Rio will take your breath away. The dramatic landscape peaks at Tijuca massif at 1,021m high and features botanical gardens and several prime viewing locations.
Gastronomy Experience
With roots stemming from all over the world, the Rio cuisine is an experience all of its own!
The national dish, Feijoada, is a staple in the Brazilian diet. It is a stew of black beans and pork, married together with a symphony of comforting spices and traditionally served over a bed of rice and orange slices. This is a hearty meal and will have you eating like a carioca.
No holiday to brazil is complete without spending an evening at a churrasscaria restaurant. You simply can't go past experiencing the traditional Brazilian way to barbecue meat on hot charcoal… plus it's all you can eat!
Brazilian street food will have you going back for more. Every. Single. Time. Coxinha is a personal Globetrotter favourite. This fried rain drop-shaped ball of goodness is stuffed full of shredded chicken and cheese. Yum! Treat your sweet tooth with a brigadeiro, a chocolate flavoured sweet made of condensed milk and chocolate powder.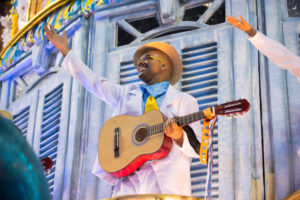 Captivating Nightlife
Oh the rhythms of Rio! The city moves to a soundtrack of samba, old-school rock, hip-hop, funk and African influenced beats 24 hours a day, seven days a week.
Rio's party culture means there are bars, clubs, live music and restaurants in every nook of the city. You won't be caught without something to do!
Come experience Rio wanderlust with us!